News & Announcements
Title KU Medicine and SK Bioscience Establish Industry-Academia Cooperation System to Cope with Infectious Diseases
Hospital KU Medicine
Date 2021-12-02
Read 1191
Korea University Medicine and SK Bioscience
Establish Industry-Academia Cooperation System
to Cope with Infectious Diseases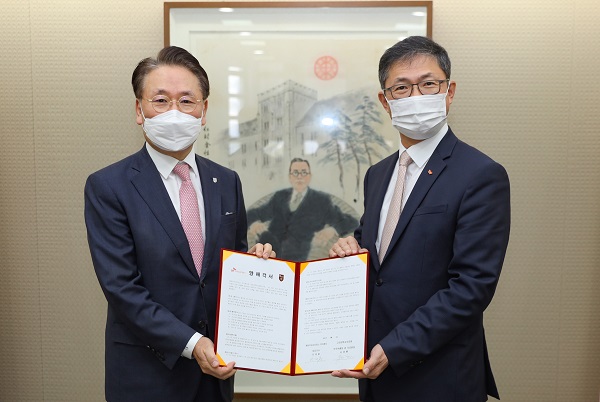 Korea University Medicine and SK Bioscience (President, Jae-Yong Ahn) will establish an industry-academia cooperation system to proactively respond to new viral infectious diseases.

Korea University Medicine announced that it held a ceremony at Korea University Inchon Memorial Hall to sign an industry-academia cooperation agreement with SK Bioscience in order to establish a system to monitor and respond to global infectious diseases.


Chairman Jae-Ho Kim of the Korea University Foundation, President & CEO Young-Hoon Kim of University Medical Affairs, Vice Chairman Chang-Won Choi of SK Discovery, and President Jae-Yong Ahn of SK Bioscience attended the event to discuss the need for conducting preemptive research and quickly responding to pandemics in the future.

The main tasks of the partnership include establishing a system to monitor infectious diseases at home and abroad, conducting research on vaccine development, and training personnel to become experts in related fields. The two parties will conduct joint research over the next three years taking advantage of mutual capabilities.

For each task, Korea University Medicine will make project proposals and plans, conduct research, and present the results, while SK Bioscience will provide support. In addition, SK Bioscience plans to contribute a total of KRW 5 billion for research.

President Ahn of SK Bioscience said, "The COVID-19 pandemic made us realize the need for preemptive and active cooperation against infectious diseases. Through this industry-academia partnership, we will establish a system to cope with the next health crisis that may hit us."

President & CEO Kim of KU Medicine said, "We are happy to establish this joint venture with SK Bioscience at a time when systematic preparation for and response to repeated new infectious disease crises are urgently needed. We will do our best to contribute to humanity by conducting joint research to establish a virus monitoring system and a vaccine development platform."

Meanwhile, Korea University Medicine revealed its research strategy for the the development of infectious disease vaccines working with top-notch experts at its Mediscience Park, which opened in October 2021. The Park houses ABSL3 and BSL3 labs, which can be used to test high-risk viruses. Mediscience Park is expected to facilitate the cooperation between the two parties.