News & Announcements
Title Korea University Medicine Launches Patient-Centered Smart App, "KU Hospital"
Hospital KU Medicine
Date 2022-01-20
Read 1345
KU Medicine Launches Patient-Centered
Smart App, "KU Hospital"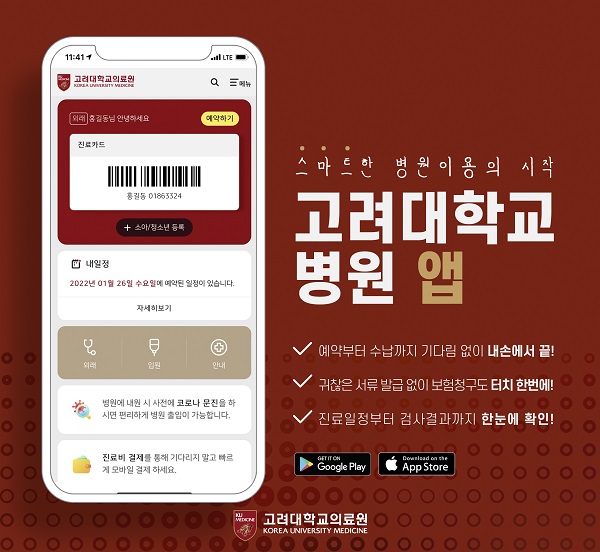 Korea University Medicine launched a smart application called "KU Hospital" to upgrade its patient-centered, contactless customized services.

The KU Hospital app was developed to provide a customized one-stop healthcare service that allows the user to go through the entire process of using hospital services. Most of all, the patient-friendly UX/UI design displays the most frequently used services in a way that users can intuitively access them. In a nutshell, the app is easy to use and has enhanced the contactless functions required to help prevent the spread of COVID-19.


The main page of the KU Hospital app shows personalized information for the user depending on their status, including patients who booked an appointment in advance, outpatients who did not make an appointment, and inpatients. Relevant information, including appointment dates, how to make a payment, hospital room guidance, surgery progress, diet, and vehicle registration, is shown and controlled on the users own smartphone. In addition, the app has a function that allows users to make insurance claims quickly and easily.

A quarantine survey was also installed along with a function to check test results. Because the app includes a COVID-19 questionnaire, patients no longer need to waste time filling out the form when they arrive at the hospital, and the lab result inquiry service allows patients to check their test results without coming to the hospital.

The KU Hospital app can be downloaded from Google Play and the App Store. Currently, it has been implemented at Anam Hospital, and will soon be made available to patients at Guro and Ansan Hospitals.


Young-Hoon Kim, President of KU Medicine, said, "We are very happy that our patients can enjoy user-friendly and convenient services through the smart app. We will continue to make every effort to upgrade our services so that patients have a better experience using our services."