News & Announcements
Title KU Research & Business Foundation and Senelix Co., Ltd. Sign Technology Transfer Agreement
Hospital KU Medicine
Date 2022-01-26
Read 1329
KU Research & Business Foundation and Senelix Co.,
Ltd. Sign Technology Transfer Agreement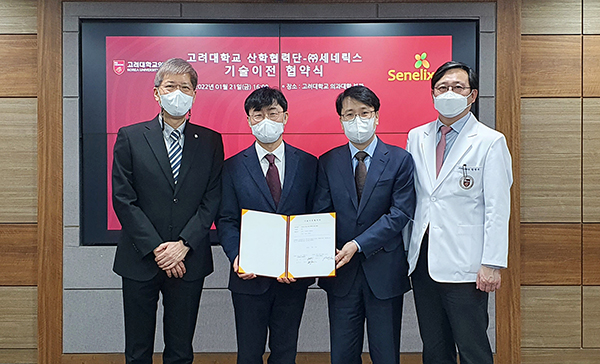 Led by its Director Seok-Joo Choh, Korea University Research & Business Foundation signed an agreement to transfer technology related to the "fusion protein of albumin and retinol binding protein (Albumin-RBP)" to Senelix Co., Ltd.

The event was held in the conference room of Korea University College of Medicine's main building on January 21 and was attended by Director Seok-Joo Choh from the Korea University Research & Business Foundation, Director Byung-Joo Ham, Professor Jun-Seo Oh, and CEO Bong-Chul Kim along with Directors Dong-Sik Kim and Hyun-Jin Cho from Senelix.

Developed by professor Jun-Seo Oh, Albumin-RBP technology is an innovation that can prevent or treat intractable fibrotic diseases that currently have no available treatments other than organ transplantation. In particular, this fusion protein can be directly delivered to astrocytes, thereby increasing the efficacy of the treatment and minimizing adverse events.


Distributed throughout the liver, pancreas, lungs, and kidneys, astrocytes are known to differentiate into myofibroblast when activated and extracellular substrates, such as collagen, are excessively expressed and accumulated to cause fibrosis. When tissue becomes fibrotic, it often progresses to cirrhosis, liver cancer, chronic pancreatitis, pancreatic cancer, pulmonary fibrosis, or chronic renal failure, resulting in life-threatening loss of organ function.

After years of research, Professor Oh suggested the possibility of using a new fusion protein as a fibrosis treatment by suppressing the activation of astrocytes and converting already active ones back to the pre-activation state.

This technology transfer is significant because it will be an innovative treatment for fibrotic diseases for which there is currently no other treatment available and, at KRW 20 billion, it is the largest scale technology transfer in the history of the KU Research & Business Foundation.

Professor Oh said, "I would like to thank my school and colleagues for their support over the past 13 years. This has been a long-term research process, and I hope that Senelix will successfully conduct subsequent studies to develop a new bio drug that will benefit patients with fibrosis."

Bong-Chul Kim, CEO of Senelix, said, "I respect Professor Oh for conducting this long-term research on tissue fibrosis since 2009, and I believe it is our mission to convert what he has done into the tangible outcome of a new drug. There has never been a bio-medicine with a new mechanism of action developed in South Korea, so we will do our best to develop the first."


As a leader of the 4th Industrial Revolution, Korea University has outstanding researchers and research assets in the bio and medical fields, as well as a good track record of technology transfer. Established in 2021 by CEO Kim Bong-Chul, who was the former CEO of Neuracle Science, a bio venture focusing on the treatment of Alzheimer's disease, Senelix Co., Ltd. is specialized in developing drugs for age-related diseases.