News & Announcements
Title Establishes Joint Response System for Infectious Diseases in Cooperation with Seoul City & Samaritan's Purse Korea
Hospital KU Medicine
Date 2022-01-28
Read 1340
Establishes Joint Response System
for Infectious Diseases in Cooperation
with Seoul City & Samaritan's Purse Korea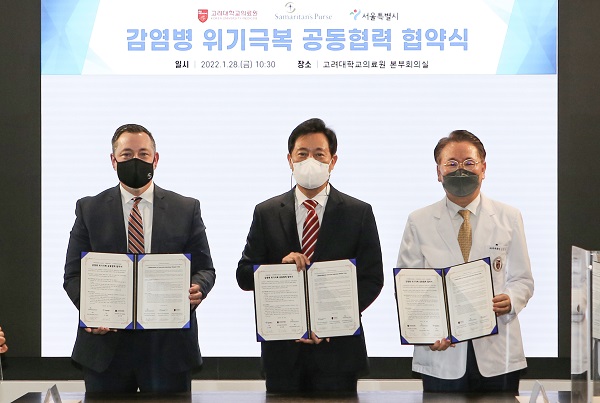 Korea University Medicine, Seoul Metropolitan Government (Mayor, Se-Hoon Oh), and Samarian's Purse Korea (CEO, Christopher James Weeks) signed an agreement to cooperate to overcome the infectious disease crisis.
Held at the Korea University Mediscience Park, the signing ceremony was attended by representatives of each institution, including President Young-Hoon Kim, Mayor Oh Se-Hoon, and CEO Christopher James Weeks.

Under the agreement, the three parties will join forces to establish a joint response plan to combat the infectious disease crisis, to support experts who can respond at times of crises, to secure the appropriate labor force and equipment based on the joint plan, and to share strategies for infectious disease prevention and management. The three parties plan to take various crisis response measures, such as installing emergency module hospitals and deploying healthcare staff in response to the recent surge in positive Omicron cases.
Young-Hoon Kim, President of KU Medicine, said, "I am happy to establish a partnership with the Seoul Metropolitan Government and Samaritan's Purse, an international organization, during these difficult times. I think the emergency module hospitals, which will be further discussed among us, can become a game changer at a time when the existing medical system is overburdened. As a medical institution with social responsibility, we will do our best to help our society overcome this pandemic."

Mayor Oh said, "This partnership is of great significance in that it is the first attempt to preemptively respond to the crisis in collaboration with the private sector. The emergency module hospitals to be built through the cooperation of Korea University Medicine, Samaritan's Purse, and Seoul Metropolitan Government will be a great hope for medical staff and citizens who have struggled during this difficult time."

CEO Christopher James Weeks said, "Samaritan's Purse has been engaged in various medical activities in developing countries and disaster sites over the past decades. Based on the know-how and experience we have acquired, we will establish a meaningful cooperation system with the Seoul Metropolitan Government and Korea University Medicine."

Meanwhile, the Korea University Medicine has made strenuous efforts to help overcome the pandemic. It sent its medical staff to Daegu, Gyeongbuk, and Gyeonggi Provinces. It has been operating the SK Hynix Icheon Campus Screening Clinic and Anam Residential Treatment Center. It also donated COVID-19 diagnostic devices and protective clothing to Madagascar and Malawi.