News & Announcements
Title Sei-Hyun Baik, Prof. of Endocrinology at Guro Hospital, Elected President of the Korean Diabetes Association
Hospital GURO
Sei-Hyun Baik, Professor of Endocrinology at Guro Hospital, Elected President of the Korean Diabetes Association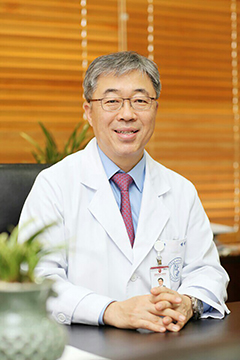 Professor Sei-Hyun Baik (photo) from the Department of Endocrinology and Metabolism at Korea University Guro Hospital, was elected the 39th President of the Korean Diabetes Association. The term of office is one year starting from January 2022.
The Korean Diabetes Association was founded in October 1968 with the mission of contributing to medical development and enhancing public health through research activities and academic exchanges in the fields of diabetes and metabolic diseases. It currently has more than 3,800 members and over 20 specialized committees and research groups.
President Sei-Hyun Baik said, "I have dedicated all my life to diabetes, caring for patients and doing research. It is such a great honor to lead this important organization. I will do my best to facilitate the development of the Korean Diabetes Association." He added, "We host international conferences every year working together with all the directors of the Association. We also publish academic journals. I will be glad if I can lay the foundation for our Association to have a better presence in the world by taking all our activities to the next level."
President Baik graduated from Korea University College of Medicine in 1964 and received master's and doctorate degrees from the graduate school of KUCM. He served as Director of the Health Promotion Center and Vice President and President of Guro Hospital. He also served as the Director in Charge of Publication at the Korean Diabetes Association and Director for International Cooperation at the Korean Endocrine Society. He has also led long-term national research on the prevention of diabetes and engaged in epidemiology research on diabetes.