News & Announcements
Title Guro Hospital Once Again Selected for the HBIC Project
Hospital GURO
Date 2022-01-26
Read 1000
Guro Hospital Once Again Selected for the HBIC Project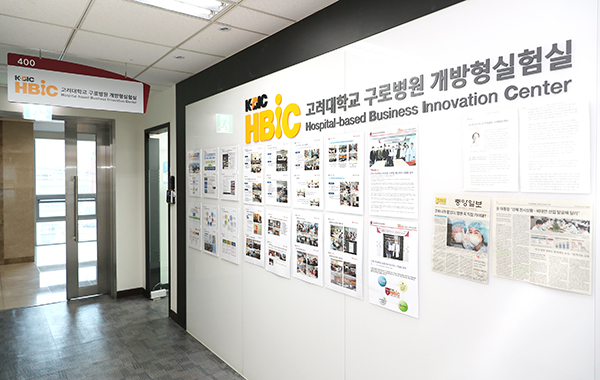 Equipped with the largest and most optimal infrastructure in Korea to realize the bench to bed vision
Outstanding results since first selection in 2019
Fostered 98 startups, Received KRW 30.9 billion in investments, Secured 22.5 billion project orders
Support for patent application and new product development from bench to market
Korea University Guro Hospital has once again been selected to run the Hospital-Based Business Innovation Center (HBIC) Project by the Ministry of Health and Welfare (Minister, Deok-Cheol Kwon).
The HBIC Project was first introduced in 2019 by the Ministry of Health and Welfare in an attempt to support the development of new technologies and new products in healthcare by facilitating joint research between hospitals and startups. In 2019, Korea University Guro Hospital was selected as the only organization to run the HBIC Project in Seoul in recognition of its of research competency and commercialization capability, and was re-selected this year in recognition of its achievements over the past three years.
The HBIC of Korea University Guro Hospital (Director, Geum-Joon Cho) is the largest in Korea, and has been evaluated as having the best infrastructure to support the bench to bed vision as it has the core facilities necessary to foster startups, such as research facilities and equipment, and space to house startups. In particular, clinicians and companies can work together on joint research projects, and preclinical and clinical trials can be supported while investors are secured. These activities have nurtured innovative convergence technology-based bio-health companies. In a nutshell, Guro Hospital has become a pioneer by building an open platform for innovation with the hospital at its core.
Over the past three years, HBIC has achieved remarkable results, giving rise to 98 startups, attracting investments of KRW 30.9 billion, and winning KRW 22.5 billion worth of government projects. In addition, 65 technologies from these startups have been patented or have patents pending either at home or abroad, 35 prototypes have been developed, and 12 products have been released on the market. All of these achievements earned HBIC the nickname of Korean Medical Silicon Valley.
Geum-Joon Cho, the new Director of HBIC at Korea University Guro Hospital, said, "We will upgrade and spread hospital-based open innovation platforms taking advantage of our competency and infrastructure and all the experience that we have acquired over the past three years operating open laboratories. Collaborating with the K-Bio Strategy Center initiated in 2021 by the Ministry of Health and Welfare as well as regional strategy centers, we will identify and nurture promising convergence technology companies in the fields of precision medical devices, new drug development, and smart healthcare. This will encourage the growth of industries that will sustain South Korea in the future."