One donor Cornea, Two Patients Helped:
a New Strategy for Tackling Donor Shortage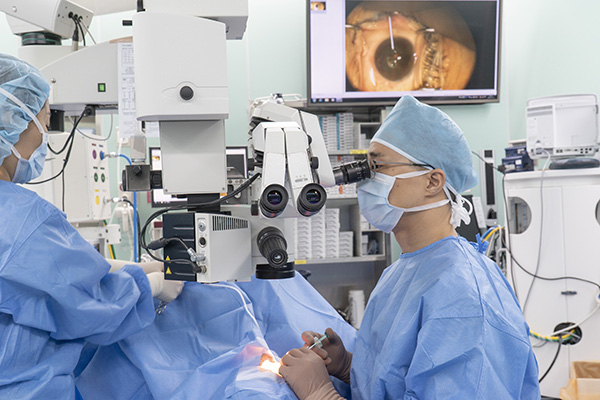 A team led by professor Eom Young-sub of Korea University Ansan Hospital stated on
the 18th that it successfully performed split-cornea transplantation using a single donor
cornea for 2 recipients.
Split-cornea transplantation combines Deep Anterior Lamellar Keratoplasty (DALK) and
Descemet's Membrane Endothelial Keratoplasty (DMEK). DALK involves selective
transplantation of the corneal stroma, leaving the native Descemet membrane and
endothelium in place, for patients with anterior stromal scars.
In DMEK, the isolated donor endothelium–Descemet's membrane layer without any
stroma is transplanted for the treatment of corneal endothelial disorders.
Since in DALK, the donor endothelium-Descemet's membrane layer is left over, and in
DMEK the anterior part of the donor button (including the epithelium, the stroma) is left
over, split cornea transplantation combining DALK and DMEK can restore eyesight in
two recipients.
A patient in his 60s with Fuchs' dystrophy experienced corneal edema and clouding,
pain, and poor vision due to endothelial dystrophy. He could count fingers at 30cm pre-
op. His eye recovered after the surgery and post-op visual acuity was 20/40 and was
discharged home. Another patient in his 70s with corneal clouding due to childhood
phlyctena regained eyesight after DMEK from the same cornea.
Domestic corneal donation and transplantation are in a very difficult situation. The
number of corneal transplants is decreasing every year from 586 in 2016 to 357 in 2017
and 322 in 2018. However, 2184 people are waiting for a transplant with an average
waiting period of 2759 days; they are waiting for a transplant for 7 years and 6 months.
"The hospital is proactively performing keratoplasty using imported cornea and split-
cornea transplantation. We will continue our efforts to restore eyesight in as many
patients as possible," Korea University Ansan Hospital stated.