Korea University Anam Hospital
Hosts the Patient Blood Management Symposium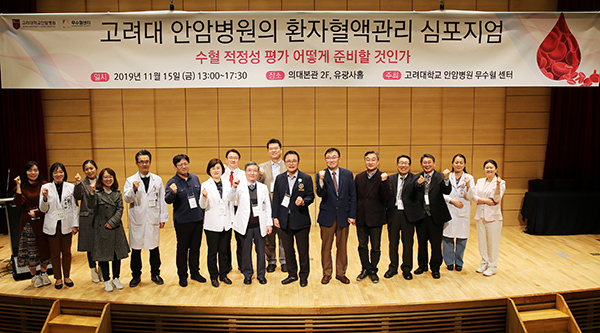 "First in Asia to adopt a hospital-level patient blood management program
The rate of inappropriate blood transfusions reduced by one-third in just one year"
Korea University Anam Hospital hosted the Patient Blood Management Symposium at
1 p.m. on November 15th at Kwang-sa Yoo Hallin the College of Medicine.
The symposium was held to commemorate the first anniversary of the opening of the
Bloodless Medicine Center with the subtopic on "how to prepare an evaluation of
appropriateness of blood transfusion", and more than 300 attendees were present.
The symposium took a look back on the past year of the Center and introduced Anam
Hospital's appropriate use of blood transfusion. The hospital presented the remarkable
progress made since last October when the Center was established such as a reduction in
the rate of inappropriate red blood cell transfusions by one third in a year (based on an
in-hospital appropriateness evaluation).
"Transfusion should take place after thorough evaluation and based on strict rules as
blood is a precious resource," said President Park Jong-hoon of Anam Hospital.
"Recently the government is also taking a great interest in the appropriate use of blood
transfusions and the paradigm is shifting from quality control of blood to evaluation of
the appropriateness of blood transfusions," he added.
"There is a recent increase in the awareness of side effects of blood transfusion so the
consensus is being made that the use of blood transfusions should be minimized," said
Shin Hyeon-ju, an executive director of the Bloodless Medicine Center. "There is also a
shortage of blood supply, so efforts are needed to reduce unnecessary blood
transfusions," she added.
Korea University Anam Hospital receives the Joint Commission International (JCI)
accreditation and successfully maintains it for 10 years to protect patient safety, medical
institution's most important principle. Through the establishment of the Center, it is
laying the cornerstone for becoming Asia's first minimal transfusion surgical hospital
and a training hub for the appropriate use of blood transfusions.