President Park Jong-hoon Receives an Award from
the Minister of Agriculture, Food and Rural Affairs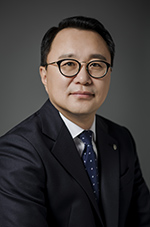 "For his contribution to promoting rural welfare

Recognized for his proactive roles in providing medical services"
President Park Jong-hoon of Korea University Anam Hospital recently received an
award from the Minister of Agriculture, Food and Rural Affairs for his contribution to
the government's policy on promoting rural welfare.
President Park Jong-hoon took office in 2018 and as his first task, he promoted rural
medical volunteer programs as a part of social responsibility activities and laid the
foundation for providing medical services in rural areas by signing an agreement with
National Agricultural Cooperative Federation and the Rural Community Broadcasting
Artists Community.
He shows respect for agriculture districts as he is an honorary village head for three
villages –Sampo 2-ri, Baekchon-ri and Songpo 1-ri of Goseong-gun, Gangwon-do.
Korea University Anam Hospital's rural medical volunteers led by President Park Jong-
hoon have provided medical services in rural communities since Mach of last year,
visiting 7000 rural residents every year. A one-corporation-to-one-village-exchange
agreement was reached with Goseong-gun of Gangwon-do and other villages in the
region, providing a platform for exchange between a city and a rural community. The
hospital is proactively carrying out activities such as providing support for medical
services in Goseong-gun, a fire-stricken region in 2019 through the establishment of
sisterhood ties.