"2020 KU Medicine –KIST Cooperation
Conference"was successfully held

Establishing a foundation for promoting
KU Medicine- KIST joint research expected to
expand a virtuous cycle model for Convergence
research.
Korea University Anam Hospital (President Park Jong-hoon)
held the "2020 KU Medicine - KIST Cooperation Conference"
at 6 p.m. on January 13 at Korea University's Sudang Samyang
Faculty House.
The conference was organized to promote joint research between
KU Medicine and Korea Institute of Science and Technology
(KIST). Key researchers of KU Medicine including Kim Byung-jo,
Vice President for Medical Research & Academic Affairs of KU
Medicine, Son Sang-wook, Administrative Director for Medical
Research, Park Jong-woong, Head of Advisory Panel and Ham
Byoung-ju, Vice President for Medical Research of Korea
University Anam Hospital and key researchers of KIST including
Seok Hyun-kwang, Head of Advisory Panel of KIST and Director-
General, Yang Eun-gyeong, Director of Research Planning &
Coordination Division, and Roh Eun-joo, Head of Chemical
Kinomics Research Center attended the conference.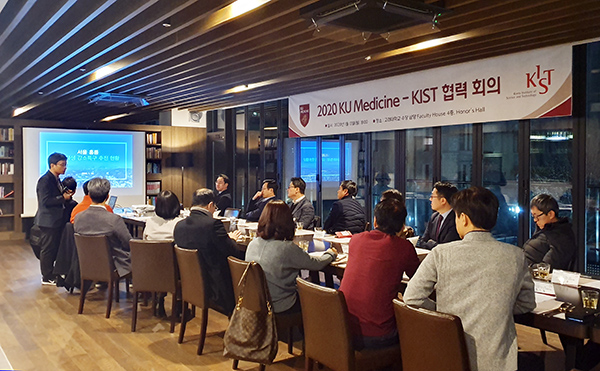 The participants shared their latest achievements and discussed
the establishment of an operational plan of 2020. An in-depth
discussion on how to improve the current research environment
related to the "Technology Commercialization System and
Program" and "Current Status of Hongneung Urban Regeneration
Special Zone Project" took place. "I hope the conference will
provide further impetus for sustainable cooperation between the
two organizations," said Ham Byoung-ju, Vice President for
Medical Research. "I hope that joint research between the two
organizations will come to fruition and become a model for
creating virtuous-cycle of inter-organizational convergence
research," replied Seok Hyun-kwang, Head of Advisory Panel
of KIST and Director-General.
Research cooperation between KU Medicine and KIST marks
the 6th anniversary this year since the creation of collaborative
relations in 2014. A translational clinical research center was
established in 2015 and over 30 workshops were held continuing
vibrant cooperation.