Researchers at Korea University Guro
Hospital Developed New Technology
Detecting "SARS-COV-2 in 1 Hour"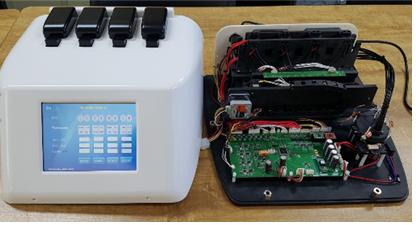 Use rapid multiplex molecular diagnostic technology that
doesn't require expensive equipment
A Korean research team developed a technology that can shorten the
detection time of SARS-Cov-2 to an hour.
BioZentech, a subsidiary of Korea University Guro Hospital (CEO Lim
Chae-seung, Professor of Department of Laboratory Medicine of Korea
University Guro Hospital), successfully developed a new, fast, and cheap
SARS-CoV-2 rapid multiplex molecular diagnostic technology capable
of rapid diagnosis and virus detection of various infectious disease.
SARS-CoV-2 can be confirmed in 1 hour
BioZentech's research team and Korea University Guro Hospital's
research team led by Prof. Lim Chae-seung and Prof. Jang Woong-shik
developed isothermal amplification that simultaneously detects RdRp
gene and E gene of SARS-CoV-2 using Multiplex LAMP. The team
verified the presence of the virus in 10 minutes by comparing the
specimen of COVID-19 confirmed patient with the specimen that does
not contain the virus using isothermal nucleic acid
amplification. Nucleic acid extraction time has also been reduced to less
than 30 minutes, and if the technology is applied, it takes only 1 hour
from collecting a specimen to confirming the case.
Currently, real-time polymerase chain reaction (real-time PCR) is
commonly used to detect SARS-CoV-2, which takes several hours and
requires expensive equipment worth about 40 million won. Diagnosis,
therefore, could be confirmed only in a central laboratory of a large
hospital in which risk and additional time were required for transporting
specimens. This test method is also not suitable for underdeveloped
countries where the virus runs rampant, because only skilled
professionals can use it.
No expensive equipment or skilled professionals required
Patent pending and clinical trial scheduled
The new technology developed by the research team has numerous
advantages for testing for acute infectious diseases such as COVID-19. It
can detect the virus almost instantly because individual testing for each
sample is possible, thus eliminating the need to wait and get a batch of
samples and run the machine. It is faster than real-time PCR and delivers
accurate results. The method requires only an isothermal device that can
maintain 62°C without the need to have expensive equipment and it is
simple enough to be used by a user; he or she doesn't have to be an
expert. It is expected to be highly useful in the future as it has several
advantages in terms of economics and convenience.
"To date, few reagents have been developed to detect SARS-COV-2 with
multiplex Lamp in the world," Prof. Lim Chae-seung stated. "This can
be extremely useful in developing countries, where resources are
scarce," explaining the significance of the study. The high-speed
diagnostic reagent is pending for a patent and the team plans to conduct
clinical trials for the Ministry of Food and Drug Safety's approval after
consultation with related hospitals.
BioZentech has confirmed that is it possible to detect pathogens related
to various infectious diseases such as tuberculosis and influenza as well
as COVID-19 using this high-speed molecular diagnostic technology.
"The rapid and accurate detection of parasites, bacteria, and viruses
related to infectious diseases such as malaria, MERS, Ebola, and Zika
prevents the spread of infection and enables treatment without delay
thereby decreasing mortality. So, I believe that this technology will be
useful," Prof. Lim Chae-seung explained.
Korea University Guro Hospital is designated as a "research-driven
hospital" by the Ministry of Health and Welfare since 2013 and has
seven subsidiaries - the largest number in hospitals in Korea. It is driving
the growth of the domestic medical device industry through the
operation of Korea University Guro Hospital IVD Support Center and
leading the commercialization of medical technology as the only "open-
lab research institute" in Seoul.
The development of the technology was a part of the "Government-Wide
R&D Fund for Infectious Disease Research" which is supported by
KCDC.