A team led by Professor Kim Sung-eun of
Department of Nuclear Medicine Proposed
a New Prognosis Predictive Model
for Breast Cancer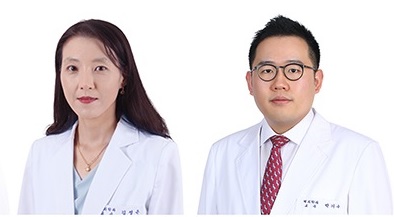 Investigates Visceral Fat Metabolic Activity after Menopause
and the Correlation with Axillary Lymph Node Metastasis
Obesity is known to be associated with a poor prognosis of breast cancer
and obesity-driven dysfunctional metabolic activity in visceral adipose
tissue is considered as one of the principal underlying mechanisms. The
association with axillary lymph node metastasis, which is an important
prognostic factor for obesity and breast cancer in postmenopausal
women, has been investigated for the first time in the world receiving
attention from academia.
Accumulating evidence supported that obesity increases the mortality
and morbidity in postmenopausal breast cancer. However, little was
known about the relationship with the metabolic activity of
dysfunctional visceral adipose tissue, a principal underlying mechanism
of obesity. A research team led by Prof. Kim Sung-eun and Park Ki-soo
of the Department of Nuclear Medicine of Korea University Anam
Hospital investigated the association between visceral fat metabolic
activity and axillary lymph node metastasis in postmenopausal breast
cancer.
Research on 173 breast cancer surgery patients who underwent
preoperative PET/CT revealed that the higher visceral fat metabolic
activity is associated with the higher axillary lymph node metastasis
which is an important prognostic factor determining the method of
treatment and the survival rate of breast cancer.
"Visceral fat metabolism activity can be evaluated with positron-
emission tomography (PET) or computerized tomography (CT) which is
a well-known nuclear medicine imaging modality, and this study will
help us to better understand the association between obesity and breast
cancer which are rising rapidly in postmenopausal women," Prof. Kim
Sung-eun stated. "It is expected to have a positive effect on predicting
the effectiveness of diagnosis and treatment in women with
postmenopausal breast cancer."
"Visceral fat metabolic activity evaluated by preoperative 18F-FDG
PET/CT significantly affects axillary lymph node metastasis in
postmenopausal luminal breast cancer" was published in the latest
Scientific Reports, a sister journal of Nature, receiving international
attention from academia.