KU Guro Hospital Spearheads
the Efforts to Build Madagascar's
"COVID-19 Diagnostic Center"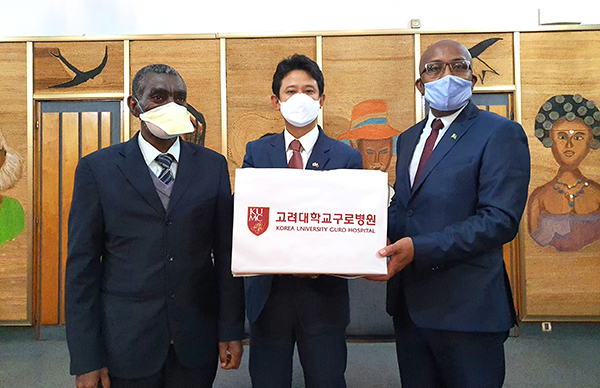 Korean Ambassador to Madagascar Sends a Letter of Gratitude to
President Seung-Kyu Han
Madagascar, which was unprotected against the COVID-19 pandemic due to
outdated medical facilities and thus unable to treat or even test patients,
established a quarantine safety net thanks to Korea University Guro Hospital's
support.
In response, the Republic of Korea's ambassador to Madagascar, Sang-woo
Lim, sent a letter of gratitude to President Seung-Kyu Han of Korea University
Guro Hospital.
Madagascar is an island country in the Indian Ocean of Africa with a population
of 27 million and had its first COVID-19 confirmed case on March 20. And in
less than a week, the number of exposed people surpassed the nation's testing
capacity, and as a result, the number of patients increased exponentially. In
Madagascar where medical facilities and resources are so scarce that just 10
critically ill patients would overwhelm the system, an only available option was
rapid screening and patient isolation.
It got test kits but couldn't differentiate specimen
Korea University Guro Hospital supported the establishment of a
laboratory with negative pressure and stainer
Embassy of the Republic of Korea in Madagascar (Ambassador Sang-woo Lim)
secured test kits for 15,000 people thanks to the help of supporters and the
Korean government. But the test kits were just bullets and it needed a gun. The
test kit alone did not mean that patients could be diagnosed. Laboratory tools
such as pipettes were in short supply, so even with a collected specimen, a
diagnosis couldn't be made. There were no infectious disease experts,
diagnostic and pathology experts, so it was difficult to know what kind of lab
equipment was needed and how to purchase them.
So, Ambassador Lim asked for advice from Missionary Jae-hoon Lee (51th
graduates' class of Korea University College of Medicine) who had been
volunteering in Madagascar since 2005 to provide medical services.
When the missionary asked help from Professor Han-Kyeom Kim of the
Department of Pathology of Korea University Guro Hospital, Professor Kim
and his wife, Mrs. Young-sook Joo (38th graduates' class of Korea University
College of Medicine) purchased and donated two negative pressure which is
absolutely needed for safe SARS-CoV-2 testing and also provided information
for the establishment of a laboratory. Then Madagascar was able to establish a
well-equipped laboratory for COVID-19 patients testing, and as of June 20,
approximately 12,000 tests have been conducted to find 1,162 confirmed cases.
When President Seung-Kyu Han of Korea University Guro Hospital heard this
unfortunate news of Madagascar, he helped building a laboratory that can
complement Madagascar's suboptimal health care environment by sending
automated histology and cell stainer and a coverslipper.
Has been inviting and educating pathologists since 2016
In fact, this is not the first time that Korea University Guro Hospital supports
Madagascar. It invited and trained three pathologists from Madagascar to Korea
from 2016 to 2020. The trained pathologists will play a pivotal role not only in
Pathology but also in the medical development of Madagascar.
"Korea University Guro Hospital has been a great help in improving
Madagascar's suboptimal health care environment. I express my sincere
gratitude for your help and interests in Madagascar from afar." Ambassador Lim
stated in his letter of gratitude expressing his appreciation.
"We didn't do much but you sent us a letter. I am truly touched by your letter of
gratitude." President Han replied. "I hope the whole world will work together to
overcome the COVID-19 pandemic and will continue to support Madagascar
for its medical development."