KU Medicine Provides a Cutting-edge
Virtual Dissection Simulator to
Madagascar with Nanoori Medical
Foundation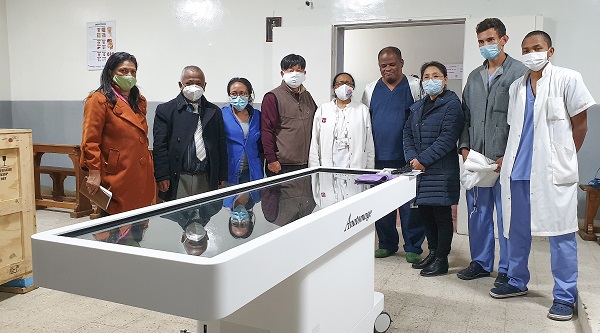 University of Antananarivo will use it for basic medical education of
its medical students
KU Medicine (Executive Vice President for Medical Affairs and President &
CEO of University Medical Affairs Young-hoon Kim) and Nanoori Medical
Foundation (Chairman Taeil Jang) provided support for medical education and
doctors training in Madagascar, Africa.
KU Medicine said on the 29th that it purchased and delivered an anatomy
education system "Anatomage Table" to the medical school of the University of
Antananarivo with Nanoori Medical Foundation. "Anatomage Table" is
developed by Anatomage, a U.S. Firm, and is called "virtual dissection table". It
is used in universities world-wide for anatomy education because individual
structures are reconstructed in accurate 3D, resulting in an unprecedented level
of real accurate anatomy, dissectible in 3D; Anatomy is presented as a fully
interactive, life-sized touch screen experience. In 2012, Korea University
College of Medicine adopted the table for the first time in Asia making
headlines.
KU Medicine has a close relationship with Madagascar. Missionary Jae-hoon
Lee (51th graduates class of Korea University College of Medicine) has been
engaged in providing medical services for the underprivileged in Madagascar
since 2005. In November 2018, KU Medicine signed an agreement on academic
and people-to-people exchange with the University of Antananarivo continuing
its relationship. Also, from 2016 to recently, 3 local pathologists were invited
for training, and KU Medicine donated 2 negative pressures, an automated
stainer and sealer during the COVID-19 pandemic for the establishment of a
diagnostic center receiving a letter of gratitude from Republic of Korea's
ambassador to Madagascar, Sang-woo Lim.
The donation was made after Chairman Taeil Jang of Nanoori Medical
Foundation (41th graduates class of Korea University College of Medicine)
heard about the difficult situation of Madagascar and proposed KU Medicine to
help out. The donated virtual anatomy simulator will be useful in anatomy and
dissection education which is essential for training health care providers, and
yet poorly performed due to the suboptimal education environment.
"I express my sincere appreciation and respect to Chairman Jang for his
commitment to support Madagascar," Executive Vice President for Medical
Affairs and President & CEO of University Medical Affairs Young-hoon Kim
stated. "We will continue to confer with Madagascar so that it can receive
sustainable and tangible support in the future as it has a special meaning to KU
Medicine. It is a place where one of our members, Missionary Jae-hoon Lee, is
trying his best to help."
"When I heard about the difficult situation of Madagascar, it was only natural to
help out," Chairman Jang said. "I hope the delivered table will be a small but
valuable foundation for Madagascar's medical education and training for a
skilled workforce."