News & Announcements
Title Honored with Minister of Health and Welfare Award for Medical-related Infectious Diseases Prevention and Control Project
Hospital ANSAN
Honored with Minister of Health and Welfare
Award for Medical-related Infectious
Diseases Prevention and Control Project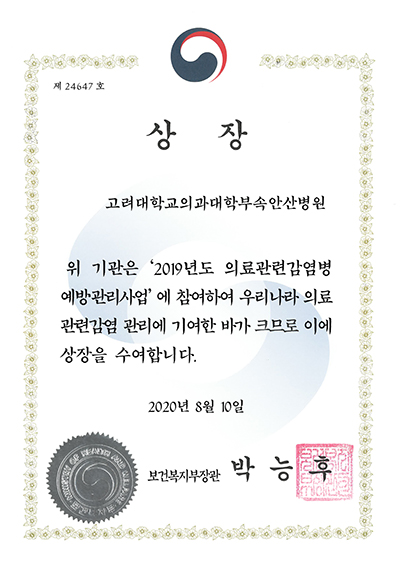 Korea University Ansan Hospital (President Woon-young Kim) received an
award from the Minister of Health and Welfare for "2019 Medical-related
Infectious Diseases Prevention and Control Project".
Since 2017 as a regional medical center, Korea University Ansan Hospital
conducted a medical-related infectious disease prevention project with other
local hospitals and was engaged in various activities such as regular education,
consultation, and prevention management.
The hospital received this award in recognition of its outstanding contribution to
infection control such as the establishment and sharing of a screening process of
suspected COVID-19 cases with local hospitals to stem the spread of the virus
started at the end of 2019.
"The public's interest and awareness of infectious diseases are heightened due
to the spread of COVID-19, so we must fully commit to the infection control,"
Director of Infection Control Office Dae-Won Park said. "We will do our best to
overcome this difficult time by establishing a response system for infectious
diseases which includes not just regional hospitals but also public institutions
and private companies."