Sacred Ceremony at Korea University College
of Medicine Honors 70 Individuals of the Past
Year Who Donate Body to Science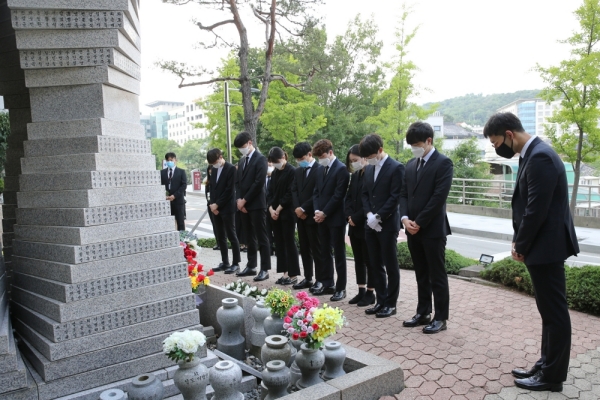 Korea University College of Medicine (Dean Young-Wook Yoon) organized
Service of Gratitude memorializes individuals who donated their bodies to
science at Kwang-sa Yoo Hall of College of Medicine Main Building on the 2nd
(Thursday) at 4:30 PM.
The service included a moment of silence, Dean's words of appreciation,
student representative's words of appreciation, Professor of Department of
Anatomy Chang-Sub Uhm's words of appreciation, dedication ceremony, and
wreath laying of leaders, members, and students. The service was broadcasted
online in real-time to prevent the spread of COVID-19.
"I pay solemn tribute to the donors and their families bequeathed their bodies to
science. Today, through the service, it will be a meaningful place to think about
the meaning of dedication engraved on the Monument of Appreciation and
reflect on the vocation of a doctor." Dean Young-Wook Yoon said in his
remarks.
"There is a saying in the college that donors are the first patient and teacher of
medical students. They teach more than any book ever could. I pay my deepest
respect and appreciation to donors and their families who bequeathed their
bodies to science and ultimately humanity. You helped foster our dreams of
becoming a physician. We won't let you down." Freshmen representative
Taekyung Lee added.
"Anatomy is not only learning the structure and function of the body, but also
studying wishes of donors, and a body donation requires a noble spirit of
philanthropy and sacrifice, necessary to make a better world, that is truly
beyond words." Prof. Chang-Sub Uhm stated. "I hope all of you to become a
good doctor who listens to and empathizes with patients' suffering and prove
oneself worthy of the donor's confidence and dedication."
The names of 70 individuals who donated their bodies to science from April of
last year to March this year were solemnly read out. Dean Young-Wook Yoon of
College of Medicine, Dean GyeongAe Seomun of College of Nursing, and
professors of Department of Anatomy laid flowers on the altar. Students laid
chrysanthemum flowers on the Monument of Appreciation bearing the names of
donors and paid silent tribute.
College of Medicine holds an annual service of gratitude on the third Thursday
of April every year to memorialize individuals who donated their bodies to
science, but it had been delayed twice this year due to COVID-19 and was
broadcasted online in real-time via YouTube observing social-distancing. Since
the erection of the Monument of Appreciation bearing the names of donors in
1996, along with the College of Medicine's initiatives to promote body
donation, the number of donations steadily increased and it amounts to 1,326
from 1982 to 2020 and 7,545 people registered their intent to donate their body.