A Team Led by Prof. Jung-Ho Shin of
Dpt. of Obstetrics and Gynecology of Guro Hospital,
Performed More Than 100 Cases of Single-Port
Robotic Surgery for Pelvic Organ Prolapse
First Time in the World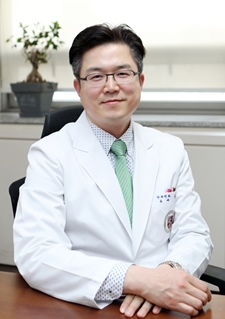 Single-port robotic-assisted sacrocolpopexy reduces operating time by 1/3
Better cosmetic outcome, faster recovery, lower odds of recurrence
A team led by Professor Jung-Ho Shin of Department of Obstetrics and
Gynecology of Korea University Guro Hospital became the first hospital-based
team to perform more than 100 cases of robotic-assisted sacrocolpopexy for
pelvic organ prolapse.
A prolapse happens when one or more of the pelvic organs (bladder, rectum,
uterus) drop or press into or out of the vagina. It is common in middle-aged
women affecting three in ten women aged over 50 with a history of
childbirth. Symptoms include urinary problems, vaginal bleeding, pelvic pain,
gait disturbances and significantly decrease quality of life, so it is important for
patients to seek treatment. Symptoms get worse as one gets old after
menopause, so the cases requiring surgery increases with age. Surgery is mostly
performed on patients in their 70s.
However, the risk of recurrence is high after pelvic organ prolapse surgery; one
in three requires repeat surgery. Recurrence prevention is very important and
sacrocolpopexy in which a mesh is attached from the vagina to the sacrum is
associated with a low risk of recurrence and good long-term outcome. This is a
highly complicated surgery that requires highly skilled surgeons because the
bladder and rectum should be separated from the vagina in a shallow pelvic
cavity and the sacrum is exposed, which has a high risk of bleeding. Moreover,
this approach is more challenging and there is a long learning curve for
surgeons.
In the past, laparoscopy or laparotomy was performed, but these procedures
make a large incision or take 4 to 5 hours or more even with few trocars. This
can be difficult for frail elderly patients who have chronic diseases and
diminished physiologic reserve. However, a single-port robotic-assisted
procedure can decrease the operating time 3 hours, decreasing the time under
anesthesia by 1/3. The incision is small at about 3cm, less demanding on the
patient's body and thus, faster recovery.
"It is important to minimize the risk and burden of surgery because most of the
patients requiring sacrocolpopexy are middle-aged patients, especially elderly
patients aged over 70," Professor Shin stated. "Our team makes only one
incision for single-port robotic-assisted surgery, reducing operating time, and
minimizing the incision site so that patients can start walking a half-day after
the surgery; recovery is faster. Also, single-port robotic surgery enables
surgeons to access the pelvic cavity more easily than other procedures."
Korea University Guro Hospital is equipped with Da Vinci Xi, a surgical system
capable of challenging surgeries, and Da Vinci SP, the best single-port robotic
surgical system to date. It is leading the development of robotic surgery based
on unparalleled surgical techniques. For example, it succeeded in single-port
surgery for the first time in Korea not only for pelvic organ prolapse but also for
lung cancer.