Korea University Anam Hospital
Expected to Become a Key Leader
in the Medical Devices Industry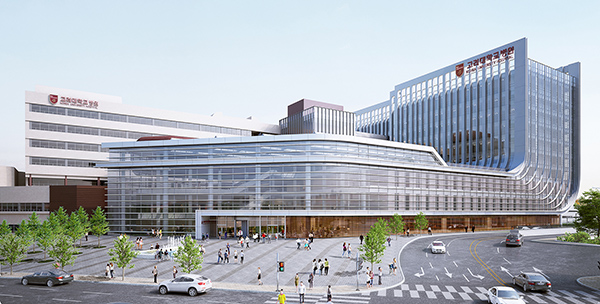 Medical Platform Innovation Center signs an agreement with numerous domestic companies
Will expand the distribution network and strengthen clinical trial stability
Korea University Anam Hospital Medical Platform Innovation Center (Director
Seung-Zoo Yoon) has recently attracted great attention in the medical industry
for its unparalleled footstep, previewing its role as a key leader in the industry.
The center signed an MOU with 10 Korean medical device distributors and a
CRO. This was done as a part of the "establishment of medical device
convergence industry ecosystem" of the center to expand the distribution
network of medical devices and strengthen the stability of clinical trials.
The MOU is based on the cooperation to specify markets in order to establish a
medical device industry ecosystem for improving treatments by promoting the
introduction of novel medical technologies based on the expansion of
distribution networks. Through the support for medical researchers' product
development and release, the center will push ahead with detailed plans of
easing regulations for signing clinical trial and distribution with the researchers.
The center is expected to gain a great driving force of development and
commercialization of products through this grand scale agreement. "We would
be able to establish a new support system for researchers in the medical field
through strengthened stability of clinical trial and expanded distribution
network," said Director Yoon. "I hope the center will become a stepping stone
for tearing down a wall between hospitals and companies and for co-
development so that the domestic medical devices can survive in global
markets."
Meanwhile, the center was started as a "Medical Device Innovation Project
Unit" and provided support for research's initial establishment between
hospitals and companies and served as an intermediary to prevent conflicts. As a
result, the Ministry of Trade, Industry, and Energy's study was successfully
carried out, and it was re-established as an official organization of Korea
University Anam Hospital in September 2019, taking a leap as a key leader in
the medical devices industry.
[Parties to MOU]
● Distributors
- MODU Medical (CEO: Byungdoo Kim)
- WITH MEDICAL (CEO: Kwangryul Kim)
- MIN-K Medical Co., Ltd. (CEO: Wanggi Hong)
- Baek San International Co., Ltd. (CEO: Hyungju Seo)
- Sewon Co., Ltd. (CEO: Juhyun Kim)
- Woojo Co., Ltd. (CEO: Sunghyun Oh)
- Feeltech (CEO: Kihyun Han)
- ALT (CEO: Sungyeon Hong)
- HB Medical Co., LTD. (CEO: Daeyeol Lee)
● CRO
- QRIO (CEO: Kyuri Min)