"Concomitant NSAID Treatment Increases the Risk
for Cardiovascular Events by Seven and the Risk for
Brain Hemorrhage by Four"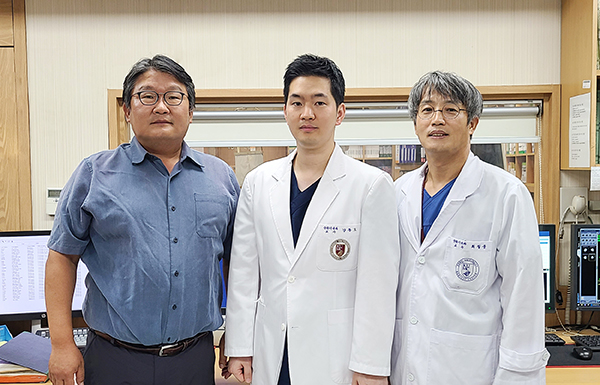 A research team of Guro Hospital Cardiovascular Center conducted a cohort
study of 110,000 patients with acute myocardial infarction
Largest in the world, suggesting treatment strategies applicable to the wider
population groups
Concomitant nonsteroidal anti-inflammatory drug (NSAID) and antiplatelet
treatment increase the risk for cardiovascular events such as myocardial
infarction (MI) and stroke by seven and the risk for bleeding events by 4
compared with no NSAID treatment after MIaccording to a study.
A research team led by Professor Chul-Ung Choi of Korea University Guro
Hospital Cardiovascular Center (Professor Chul-Ung Choi and Professor Dong
Oh Kang of Korea University Guro Hospital Cardiovascular Center, Professor
Hyonggin An of Department of Biostatistics of Korea University, Geun U Park
of Linewalks) conducted a cohort study of 110,000 domestic patients first
diagnosed with acute MI from 2009 to 2013 using the Health Insurance Review
and Assessment Service database. The mean follow-up duration was 2.3 years,
and the analysis of the association between NSAID and cardiovascular events
(MI, stroke, systemic embolism) and bleeding events (gastrointestinal, brain,
respiratory, or urinary tract bleeding) showed that concomitant NSAID and
antiplatelet treatment increase the risk for cardiovascular events by seven and
the risk for bleeding events by four.
Among the NSAID subtypes, celecoxib and meloxicam, selective COX-2
inhibitors, showed a relatively low risk for bleeding events and cardiovascular
events.Both cardiovascular and bleeding risks were relatively lowered by
celecoxib compared with other NSAIDs; the relative cardiovascular and
bleeding risks were reduced by 35% to 40% and by 15% to 20% compared with
other NSAIDs, respectively.
Patients with acute MI need to maintain antiplatelets for life. As population
aging advances recently, the prevalence of atherosclerosis and acute MI and the
prescription for NSAIDs due to musculoskeletal disease are on the rise.
Consequently, the number of patients who are frequently exposed to NSAIDs
because of secondary prevention of cardiovascular disease and symptom
management of musculoskeletal disease is increasing.
Concomitant administration of antiplatelets and NSAIDs have been reported to
increase the risk of adverse cardiovascular events and bleeding events.
Therefore, recent guidelines have discouraged the use of NSAIDs in patients
with established cardiovascular disease. However, limited data are available as
the evidence on NSAID treatment after MI was based mostly on study results
from the Western population. Also, some patients with acute MI need to take
NSAIDS for symptom management of their musculoskeletal disease or
inflammatory disease. Investigation of the risk for cardiovascular and bleeding
events according to groups of antithrombotic medications and subtypes of
NSAIDs in patients with MI was needed.
"In patients with acute MI, the prescription of NSAIDs should be avoided as
much as possible, but this study presents the accurate risk of cardiovascular and
bleeding events for NSAIDs and a new evidence that selective COX-2 inhibitors
can be considered an alternative option in case NSAID use is unavoidable,"
Professor Kang, first author of the study, said.
"We investigated the risk for cardiovascular events associated with concomitant
NSAID treatment from the largest contemporary cohort of patients with MI,"
Professor Choi, a corresponding author, said. "Our study adds important value
to the currently available evidence for concomitant NSAID treatment after MI
by constituting global evidence that encompasses diverse population groups."
The study "Cardiovascular and Bleeding Risks Associated with Nonsteroidal
Anti-Inflammatory Drugs After Myocardial Infarction" was published in the
August issue of Journal of the American College of Cardiology (JACC)
[2019 JCR Impact Factor 20.589], a world-renown journal published by
American College of Cardiology (ACC).