Korea University Ansan Hospital
Signs an MOU with
Shin Ansan University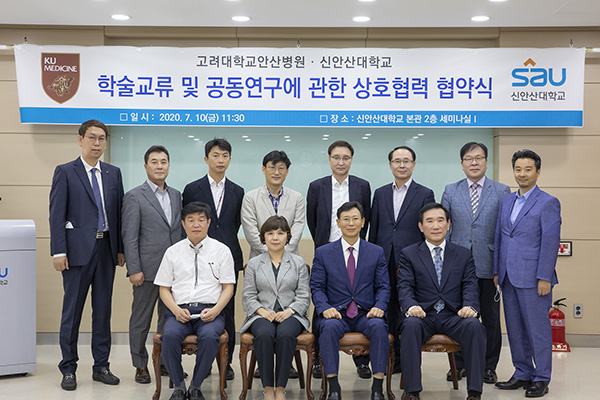 Korea University Ansan Hospital (President Woon-young Kim) and Shin Ansan
University (President Song-Lak Kang) signed an MOU on July 10 at the
Seminar room of Shin Ansan University and pledged bilateral cooperation on
academic exchanges and joint research.
Korea University Ansan Hospital which is the only tertiary general hospital in
the region and a center of medical research and Shin Ansan University which is
a technical college of industry and academy cooperation established this
agreement to focus on the promotion of the biomedical industry which is a
bedrock of the fourth industrial revolution. Cooperative relations will be
deepened for promotion of the institutions' medical industry including joint
research conduct, technology cooperation, join-use of research equipment and
facilities, and promotion of research human resources and people to people
exchanges.
"With this MOU, the two institutions could identify the common interests and
establish a foothold in creating outcomes by sharing research projects. I hope to
see a synergistic effect on the development of the two institutions and the
medical industry." President Kim stated.
"I am glad that we can work with Korea University Ansan Hospital on research
and medical technologies that are essential in the process of pursuing
technological development for the medical industry," President Kang said. "I
look forward to having bilateral relations that would lead the fourth industrial
revolution through regular symposiums and people-to-people and infrastructure
exchanges."