News & Announcements
Title Trusted Hospital, Sincere Treatment, Community Inclusive - Korea University Ansan Hospital Honored with 2020 National People of Empathy Management Award and Win-Win Growth Award
Hospital ANSAN
Trusted Hospital, Sincere Treatment,
Community Inclusive - KU Ansan Hospital
Honored with 2020 National People of Empathy
Management Award and Win-Win Growth Award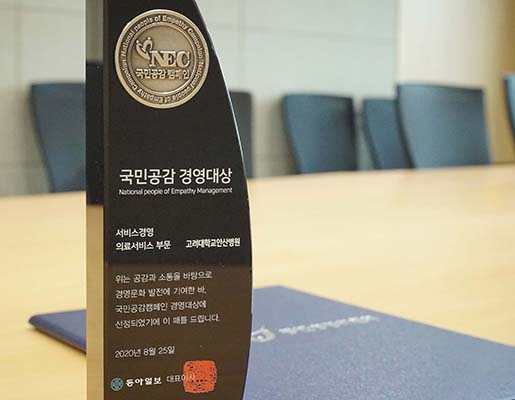 Korea University Ansan Hospital (President Woon-young Kim) received the
National People of Empathy Management Award and Win-Win Growth Award
under the section of service management (healthcare service) of the "2020
National Empathy Campaign".
The campaign is organized by the Dong-A Ilbo and supported by the Ministry
of Culture, Sports, and Tourism, Ministry of Trade, Industry, and Energy,
Ministry of SMEs and Startups, Ministry of Health and Welfare, Ministry of
Employment and Labor, Ministry of Gender Equality and Family, Ministry of
Food and Drug Safety, and Korea Commission for Corporate Partnership. It is
an event aimed at promoting the health and sustainable growth of the people and
society through empathy and communication. Out of nine sections such as
△Service Management △Global Management △Corporate Culture
Management △Leadership Management, and six brand sections, it was selected
in the management sector such as △Win-Win Growth △Job creation and the
brand sector such as △Education Service.
Since its opening in Ansan, Gyeonggi-do in 1985, Korea University Ansan
Hospital has built a state-of-art healthcare system and provided specialized
medical services in the past 35 years to meet the demand of the city and region
in line with their characteristics which lacked healthcare services. It has
contributed to the improvement of quality of life in the southwestern region of
Gyeonggi-do and received high praise for its social value creation by providing
employment opportunities to unemployed-severely handicapped persons who
struggled to find a job due to the shrinking economy because of COVID-19.
"We have grown together with the community and we will continue to provide
healthcare services centered on severe diseases to cement our standing as a
gatekeeper of health within the community," President Kim said. "We plan to
lead future medicine by specializing the hospital to meet various healthcare
needs."