News & Announcements
Title Prof. Yang In Kim of Dpt. of Physiology Identifies a New Central Mechanism for the Antihypertensive Effect of Estrogen
Hospital KU Medicine
Prof. Yang In Kim of Dpt. of Physiology
Identifies a New Central Mechanism for the
Antihypertensive Effect of Estrogen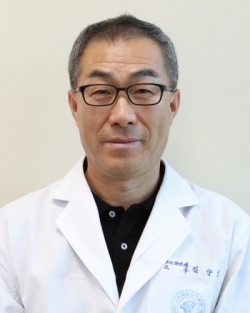 A team led by Professor Yang In Kim of Department of Physiology of Korea
University College of Medicine proposed a new treatment strategy for
hypertension by confirming the antihypertensive effect of estrogen on the central
nerve system.
One of the most important risk factors and causes of hypertension is excessive
salt intake and the incidence of salt-dependent hypertension is lower in women
than men. Abundant evidence indicates this is because of estrogen's
antihypertensive effect by suppressing the activation of the sympathetic nervous
system and vasodilation. Yet, the exact mechanism is poorly understood.
In addition to the sympathetic nervous system, the neurohumoral system that is
highly likely to be associated with the development of salt-dependent
hypertension is subsumed under the central nervous system. Some of the neurons
that consist the system produce vasopressin which has antidiuretic and
vasoconstrictive effects that play a crucial role in the pathogenesis of
hypertension. The team hypothesized that estrogen inhibits hypertension through
neurons that produce vasopressin and conducted research.
In the ovariectomized female rats salt-hypertension model, when hypertension
was induced, an increase in blood concentration of vasopressin was similar to
that of male rats. However, in sham ovariectomized rats or ovariectomized rats
with estrogen replacement, even with hypertension inducing procedures,
hypertension wasn't induced and the blood concentration of vasopressin was
much lower, according to the team's research.
The team confirmed that the cause of an increase of vasopressin in blood caused
by hypertension inducing procedures in male rats or ovariectomized female rats
is inhibitory-to-excitatory-transition of GABAergic transmission in neurons. It
also found that estrogen administration suppresses the emergence of GABAergic
excitation in vasopressin neurons in ovariectomized female rats and male rats.
In addition, the team tested that the reason estrogen suppresses the emergence of
GABAergic excitation in vasopressin neurons is that it prevents the accumulation
of chloride ions in vasopressin neurons by increasing the expression of KCC2,
Cl⁻ extruding transporter. The team confirmed that salt-dependent hypertension
was remarkably alleviated when KCC2 activator was used.
"This research is significant because it presents a new target for the development
of antihypertensives by investigating a new central mechanism of estrogen's
antihypertensive effect," Professor Kim stated. "I hope that the results of our
research will lead to the development of new treatments which will give a hope
to many patients suffering from hypertension."
The paper "Oestrogen inhibits salt-dependent hypertension by suppressing
GABAergic excitation in magnocellular AVP neurons" was published online in
the world-renown journal in September
2020.