News & Announcements
Title Prof. Woong Sun of Dpt. of Anatomy Awarded the 18th Pfizer Medical Research Award
Hospital KU Medicine
Prof. Woong Sun of Dpt. of Anatomy
Received the Pfizer Medical Research Award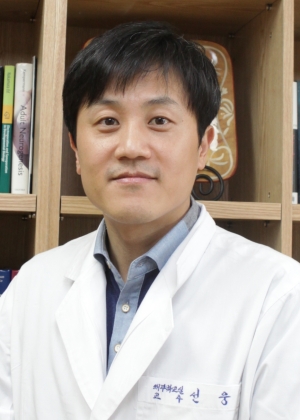 Professor Woong Sun of Department of Anatomy of Korea University College
of Medicine was selected as a winner of the 18th Pfizer Medical Research
Award in Basic Medicine.
Pfizer Medical Research Award is one of the most prestigious awards in Korea
organized by the National Academy of Medicine of Korea and supported by
Pfizer Korea. It was established in 1999 to discover medical scientists who have
made outstanding contributions in Korea's medical development and mankind's
health and welfare and to promote research in medicine.
Professor Woong Sun has conducted research to identify a molecular
mechanism of mitochondrial quality control. After identifying a regulatory
mechanism of mitochondrial dynamics in 2017, he took a step further and
published a paper "Drp1-Zip1 Interaction Regulates Mitochondrial Quality
Surveillance System" identifying that Drp1, dynamin-related protein 1, provides
a selective pressure for eliminating "bad sectors" in the mitochondrial network,
serving as a mitochondrial quality surveillance system. It was published in
world-renown journals such as Nature Communications and Molecular Cell and
he had the honor of receiving the award as his research on mitochondrial
mechanism was praised as opening up a new horizon in cellular biology.
"I believe that the award is a recognition of my continued efforts in research and
would like to share the honor with everyone in the lab who devoted themselves
to research," Professor Sun stated. "I want to expand the scope of this research
in the future to help patients suffering from mitochondrial disorders such as
Parkinson's disease and dementia."
The 18th Pfizer Medical Research Award Ceremony is scheduled to take place
on 4 November, and prize money (90 million won in total) and an award plaque
will be given to the awardees. The clinical medicine award was given to
Professor Byeong-Keuk Kim of Department of Internal Medicine of Yonsei
University College of Medicine. The translational medicine award was given to
Professor Seung-Pyo Lee of Department of Internal Medicine of Seoul National
University College of Medicine and Professor Hoon Chul Kang of Department
of Pediatrics of Yonsei University College of Medicine.