News & Announcements
Title Dongwha Group Donates 3 Billion Won to KU Jeongneung K-BIO Campus
Hospital KU Medicine
Dongwha Group Donates
3 Billion Won to
KU Jeongneung K-BIO Campus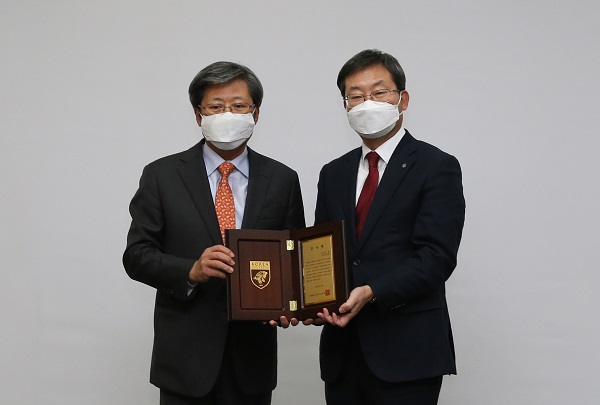 Dongwha Group (Chairman Myung-Ho Seung) donated 3 billion won to the Jeongneung K-BIO Campus that is being constructed by Korea University (President Jin Taek Chung) joining an effort in infectious diseases research for humanity.
Korea University hosted a Dongwha Group's K-BIO Campus donation ceremony at 4:00 PM on 30 November (Monday) at the lobby of Jeongneung Campus Hall of Informatics. The ceremony was joined by Dongwha Group Chairman Myung-Ho Seung, Advisor Yun-Sang Han, President of Korea University Jin Taek Chung, Executive Vice President for Medical Affairs Young-Hoon Kim, Vice President for Development & External Affairs Hyok Key Song, Vice President for Medical Planning & Budget Hee-Jin Jung, and Chairman of Development Committee of KU Medicine Kyu-Young Moon (Chairman of Ajou group).
The K-BIO campus is a space created by Korea University in Jeongneung to respond to novel infectious diseases. It is a research, education, and project platform for novel infectious disease, big data, and AI. As a convergence complex where new drugs and vaccines are developed, it is garnering attention as a new growth engine in the healthcare industry through the synergistic effect with the Hongneung Biomedical Cluster.
Chairman Seung who is also President of Korea University Businessmen Association led the member's fundraising in March this year and delivered 233 million won to KU Medicine for the COVID-19 eradication fund, showing special affection and interest in his alma mater and KU Medicine. He heard of Korea University's Jeongneung K-BIO campus construction plan, deeply sympathized with the necessity and purpose of the plan, and willingly decided to provide group-level support. Accordingly, Korea University announced that it will name the building where the new drug development and research and GMP (Good Manufacturing Practice) facilities will be built "Dongwha BIO" building in honor of Dongwha Group's contribution.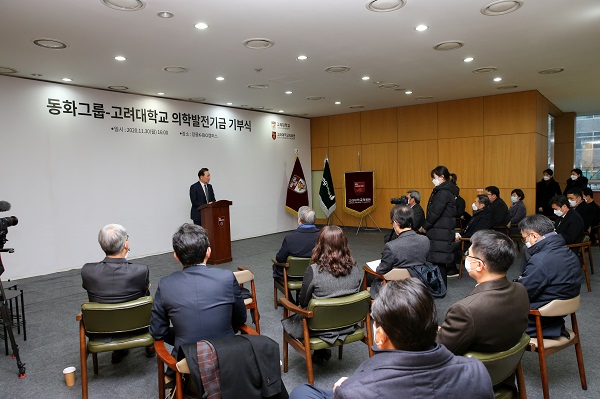 "Throughout my life, I have learned how happy it is to give out what I have in a meaningful place. Upon hearing the audacious plan of creating an outpost to respond to novel infectious diseases for humanity by KU Medicine where alma mater's and Korea's best infectious disease experts work, I decided to donate without hesitation. I hope Jeongneung to be a cradle of new drugs and vaccine development that would enrich all of us," Chairman Seung said.
"I would like to thank Chairman Seung, who showed great affection and interest in his alma mater, for understanding the purpose of our university's K-BIO campus and giving us his support. There is no doubt that Jeongneung which is full of potential will thrive again thanks to your contribution and will reborn as a new place of pride for all members of Korea University," President Chung expressed his gratitude.
"Like Korea University, the first private higher education institution, building Jeongneung K-BIO campus was a project that somebody had to do. It had to be done without relying on external support. I would like to express my sincere gratitude to Chairman Seung of Dongwha Group for his contribution. He has given us a light of hope in this challenging project. With the commitment of keeping humanity safe from novel disease, we will do our best to make Jeongneung K-BIO campus a world-class convergence education, research, and industrial complex," Executive Vice President for Medical Affairs Kim replied.