News & Announcements
Title Anam Hospital Dept. of Gastroenterology Ranked 35th in the World by US Newsweek
Hospital ANAM
KU Anam Hospital Dept. of Gastroenterology
Ranked 35th in the World by US Newsweek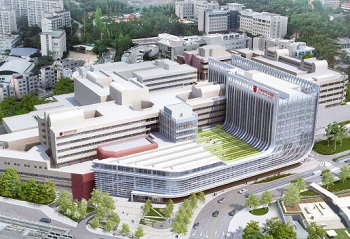 Korea University Anam Hospital was recently ranked 35th in the world in gastroenterology in the global hospital evaluation conducted by Newsweek, an American weekly current affairs news magazine, proving its world-class excellence.
The Newsweek evaluation is a score that reflects the results of an online survey of healthcare providers including 40,000 doctors, healthcare professionals, and hospital administrators in 21 countries including the United States and European countries, with Statista, a global data platform. The score reflected the ranking of hospitals evaluated by experts in six fields - endocrinology, oncology, cardiology, gastroenterology, neurology, and orthopedic.
Korea University Anam Hospital ranked 35th in gastroenterology, which is more meaningful as it was achieved despite relatively unfavorable infrastructure in terms of facility size compared to other competing hospitals.
Currently, the Department of Gastroenterology consists of 20 clinicians including professor Hoon Jai Chun, Yoon-Tae Jeen, Bo-Ra Keum, Eun-Sun Kim, Hyuk Soon Choi specialized in gastrointestinal disease and endoscopy; professor Hong-Sik Lee and Jae Min Lee specialized in pancreatobiliary cancer and gallstone disease; professor Soon-Ho Um, Yeon-Seok Seo, Sun Young Yim specialized in liver diseases such as liver cancer and cirrhosis. A specialized medical system has been established for each subspecialty of gastroenterology, and interdisciplinary cooperation and collaboration enable accurate medical services without delay which is a strength of the department. Korea University Anam Hospital's Department of Gastroenterology is already recognized as the best in Korea in terms of each professor's high level of patient care and research, and various development models such as the establishment of a gastrointestinal specialized hospital and a specialized center for gastroenterology are in preparation.
"We are continuing research and development to create better diagnosis and treatment methods and to provide best treatments tailored to each patient," Departmental Head Yoon-Tae Jeen of Gastroenterology said. "We are very pleased that the excellence of Gastroenterology, which has been achieving outstanding accomplishments despite various adverse conditions, has been proven through this opportunity. It proves that it has the potential to become a world-class medical center in Gastroenterology that could be on par with the world's best hospitals in Gastroenterology such as Mayo Clinic and Mount Sinai in the United States if there is adequate support such as the establishment of a gastroenterology specialized center."