News & Announcements
Title Anam Hospital Opened Hospital School "Children KUM Class"
Hospital ANAM
Korea University Anam Hospital Opened
Hospital School "Children KUM Class"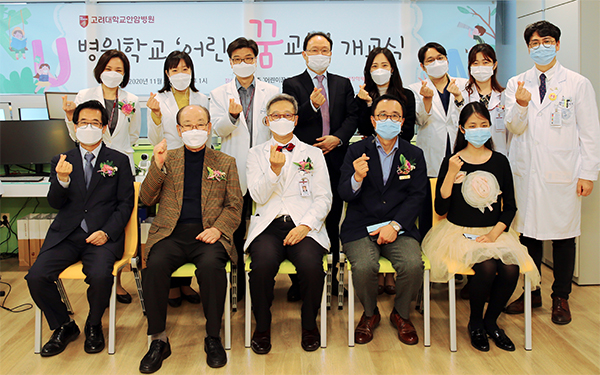 Korea University Anam Hospital (President Jong-Hoon Park) announced the beginning of the Children KUM Class with the opening ceremony of the Children KUM Class on the 19th.
The ceremony was joined by intramural and extramural VIPs including President Jong-Hoon Park, Hospital School Principal Kee-Hyoung Lee, Lotte Foundation Chairman Sungkwan Heo, Director of KU Social Volunteer Dosun Ou, Medical Social Worker So-Young Park, and members of Anam Hospital Department of Pediatrics. Miss So-jung Lee gave a congratulatory performance for the opening of the children KUM class, and Ji-yeon Lee, a music therapist, showcased a part of the music therapy class.
Korea University Anam Hospital's Children KUM class was established to guarantee children's right to development and education by promoting cognitive, psychosocial, behavior development as it provides growth and development appropriate learning activities for children who are being treated at Korea University Anam Hospital for a long time due to their illness. The class was piloted on 23 October, and members of Korea University Social Service Organization (KUSSO) have been helping with classes in major subjects such as Korea, English, Mathematics, and Science since November.
The class provides support so that they can adjust to hospital life and treatment processes through various psychological support activities such as music therapy and art therapy. Dedicated medical social workers and medical staff are doing their best so that children and teenagers can adapt well at home, school, and community even after their discharge through case management.
The class plans to open various extracurricular activities in addition to courses on different subjects and psychological support programs. Various events for each season will be hosted for Christmas, Children's Day, and holidays. A plan for non-face-to-face classes is being devised in line with the post COVID-19 era. The Children KUM Class plans to become an official school with the approval of the Ministry of Education in the future.
The class was established in January after signing an MOU between Korea University Anam Hospital and the Lotte Foundation and is supported by the foundation. Even before the opening of the children KUM class, the foundation has worked hard to improve the health and happiness of children by supporting medical expenses for children of various nationalities who were treated at Korea University Anam Hospital.
"We are pleased to be able to fulfill our social vocation which is for children's happiness through the opening of the Children KUM Class at Korea University Anam Hospital," President Park who spearheaded the effort stated. "I will do my best as a president of the hospital so that children can continue their studies for their dreams at the Children KUM Class."
"I think children learning to their fullest and growing up is just as important as treating diseases," Lotte Foundation Chairman Sungkwan Heo stated. "I ask for generous support from hospital school officials and members of Korea University Anam Hospital so that the right to education and happiness can be guaranteed through the Children KUM Class."