News & Announcements
Title Anam Hospital Signs an MOU with MD Escort on 'Medical Escort' Service
Hospital ANAM
KU Anam Hospital Signs an MOU
with MD Escort on 'Medical Escort' Service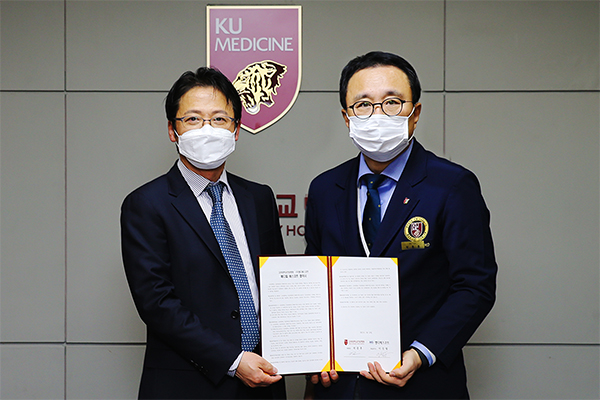 Korea University Anam Hospital (President Jong-Hoon Park) signed an MOU with MD Escort on the last 13th. The signing ceremony was attended by Anam Hospital President Jong-Hoon Park, Director of Hospital Management & Administration Hyunggu Jang, Director of Nursing Services Youngsoo Chu, Head of Referral & Customer Support Team Sooknyu Yoon, CEO of MD Escort Sangdal Lee.
Through the signing of the MOU, patients visiting the hospital can apply for medical escort services through MD Escort.
Patients, seniors, or foreigners who need help to move around, have no caregiver, or whose caregiver is unable to provide support can apply for the service through MD Escort. A medical escort can accompany clients for medical appointments and treatments at the hospital. If needed, a medical escort can pick up prescribed medications for a client, or can facilitate the communication between a caregiver and a healthcare provider.
"I hope that elderly to foreign patients can use the hospital more comfortably with this specialized service of MD Escort," President Park said. "Moreover, this service is expected to increase the quality of hospital care of Korea University Anam Hospital."
"I come up with an idea of 'medical escort' service from my mother who struggled to go to a hospital by herself without medical assistance. I hope that anyone could see a doctor at a hospital without worries and patients and caregivers can feel safe with the medical escort service," CEO Lee said.
The service will fully launch after a pilot rollout at the end of February in which improvements and corrections are made.