News & Announcements
Title Anam Hospital Receives Donation from Recovered COVID-19 Patient
Hospital ANAM
Korea University Anam Hospital
Receives Donation from Recovered COVID-19 Patient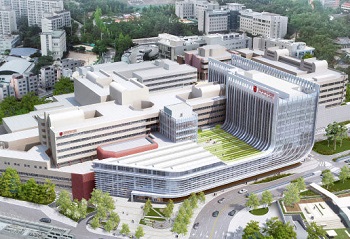 Korea University Anam Hospital recently received a donation from a patient (aged 61, male) who was treated for COVID-19 at a ward dedicated to severe COVID-19 patients (Ward 19) and discharged from hospital.
He was the COVID-dedicated ward's first case. He was admitted in September and discharged home in October after a month of treatment. At the time of admission, lung damage was so severe that the entire lungs appeared white on imaging, but thanks to the devoted treatment of medical staff at Korea University Anam Hospital, he fully recovered and was discharged home.
The patient expressed special gratitude to the medical staff including professor Sunbin Kim of Department of Infectious Diseases and Head Nurse Kyungsoon Lee of Ward 19 for their sincere care.
"I am delighted to see you fully recovered from COVID-19 as the president and as a physician myself. It must have been very difficult physically and psychologically," President Jong-Hoon Park said. "I promise you we will continue to do our best to overcome COVID-19. We will not forget your gifts and giving."
"I would like to thank all medical staff of Korea University Anam Hospital for their devotion shown during my stay," the patient said. "It is not big, but I hope that it could help patients suffering from COVID-19, and would like to support the hospital's COVID-19 efforts."