News & Announcements
Title 'Why you have a heart attack when you get angry'
Hospital GURO
'Why you have a heart attack when you get angry'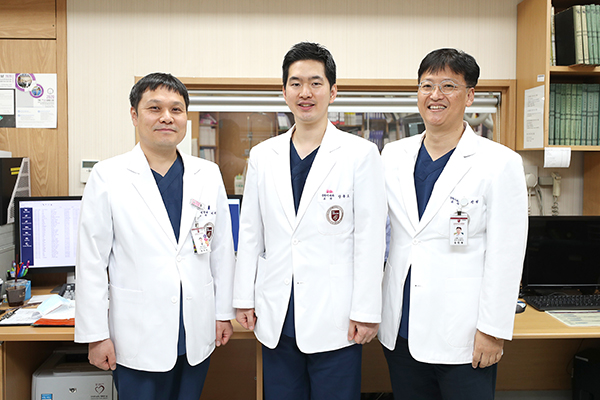 A Team Led by Professor Jin Won Kim of Cardiovascular Center of Korea University Guro Hospital, Investigates the Mechanism with 3D-Rendered Reconstruction Images for the First Time in the World
A team led by Professor Jin Won Kim of Cardiovascular Center of Korea University Guro Hospital (Professor Jin Won Kim and Dong Oh Kang of Cardiovascular Center, and Professor Jae Seon Eo of Department of Nuclear Medicine) investigated an important link between emotional stress and cardiovascular events with three-dimensional (3D)-rendered images for the first time in the world.
Emotional stress is a known major risk factor for cardiovascular disease, but the mechanistic linkage of stress response with cardiovascular events was not fully elucidated.
The team used 3D-rendered images to demonstrate a mechanistic link between brain amygdalar activity that regulates emotional response and arterial atherosclerotic inflammation which can cause a heart attack. The study found that brain emotional neural activity increased notably as the severity of myocardial infarction (MI) increased, and decreased with the recovery of MI
"This is the first study to demonstrate a relationship between emotion and heart attack, which was understood only intuitively, using 3D-rendered images for the first time in the world," Professor Dong Oh Kang, first author, said. "This suggests that effective control of emotional stress clinically can be an important strategy for preventing and treating cardiovascular disease."
"The findings of the study are of great academic significance because they present key clues in understanding the pathophysiological link between emotional stress and cardiovascular disease," Professor Jin Won Kim, corresponding author, said. "By applying 3D-rendered images to existing imaging modality, the interaction between brain emotional activity and atherosclerotic inflammation can be understood easily. As it demonstrated that emotional stress is liked with atherosclerotic cardiovascular disease, we plan to propose a new academic paradigm for brain-cardiovascular disease by developing technology to control it through follow-up research."
This article 'Stress-associated Neurobiological Activity Is Linked with Acute Plaque Instability via Enhanced Macrophage Activity: A Prospective serial 18F-FDG PET/CT Imaging Assessment' was published in the latest issue of European Heart Journal [2019 JCR Impact Factor 22.678], a world-renown journal in cardiovascular medicine, attracting attention from academia.
※ Link to Article: https://academic.oup.com/eurheartj/advance-article/doi/10.1093/eurheartj/ehaa1095/6104029