News & Announcements
Title A Research Team of Guro Hospital Discovers 'Non-alcoholic Steatohepatitis' Biomarker
Hospital GURO
A Research Team of Professor Young-sun Lee of Liver Center of Guro Hospital Discovers 'Non-alcoholic Steatohepatitis' Biomarker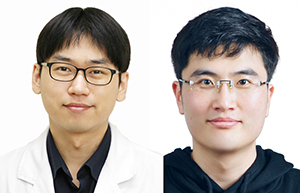 A research team of Professor Young-sun Lee of Liver Center of Korea University Guro Hospital (Professor Young-sun Lee of Liver Center, Korea University Guro Hospital, Research Professor Jung-an Kim of Center for Medical Science Research Support, Korea University College of Medicine) discovered a biomarker that can distinguish non-alcoholic steatohepatitis using miRNA (micro RNA in serum).
Non-alcoholic steatohepatitis affects 25% of non-alcoholic fatty liver disease. Unlike simple fatty liver, inflammation and fibrosis of the liver can progress to liver cirrhosis or cancer.
The diagnosis of fatty liver can be made relatively easily with imaging such as ultrasound. However, accurate differential diagnosis of simple fatty liver or non-alcoholic steatohepatitis requires tissue biopsy. Due to the high cost of a test and risk of complication, liver tissue biopsy is not readily available. Therefore, the development of a non-invasive test that can differentiate simple fatty liver and non-alcoholic steatohepatitis was urgently needed.
The team used Next Generation Sequencing (NGS) on miRNA from the blood of 24 patients diagnosed with non-alcoholic fatty liver disease via lung tissue biopsy at Korea University Guro Hospital and selected miRNA showing a distinctive increase in expression out of a total of 2,588 miRNAs of patients with steatohepatitis. As a result, the team found that the expression of four miRNAs (miR-21-5p, miR-151a-3p, miR-192-5p, and miR-4449) was meaningfully increased in patients with steatohepatitis and that it was useful in differentiating simple fatty liver and steatohepatitis. When these four miRNAs were combined, AUC (Area Under the ROC Curve), a measure of how well a parameter can distinguish between two diagnostic groups, was 0.875 and could very effectively distinguish steatohepatitis.
The team also conducted a validation using blood samples from 37 non-alcoholic fatty liver disease patients recruited by Korea University Anam Hospital to confirm the possibility of the four miRNAs of non-alcoholic steatohepatitis to be used as a biomarker. As a result, the AUC value was high at 0.874 when patients with non-alcoholic steatohepatitis were screened using the four miRNAs. In addition, the research team has networked the findings with the transcriptome open expression data to create a synergy effect with previous findings on non-alcoholic steatohepatitis.
"Through this research, we confirm that miRNA is related to TGF-β and Wnt signaling so that it can regulate inflammation of liver cells and liver fibrosis," said Professor Kim. "It is expected that this will enable the discovery of factors related to the development of diagnostic kits and new drugs."
"A biomarker that can distinguish steatohepatitis only with blood collection has been identified. It is expected to prevent the progression to liver cirrhosis and liver cancer by distinguishing patients with steatohepatitis from patients with non-alcoholic fatty liver disease," said Professor Lee. "We will develop a non-alcoholic steatohepatitis diagnostic kit using miRNA tests in blood in the future and develop a non-alcoholic steatohepatitis drug targeting miRNA," Professor Lee explained the implications and potential of the research.
The study was part of the Ministry of Health and Welfare's 'innovative joint research project of doctor scientists' and was recently published in the international journal of Scientific Report.