The second AOTrauma AP Current Concept Course with Anatomical Specimens in Upper and Lower Extremity was successfully held on January 21–23, 2016 in Seoul, South Korea.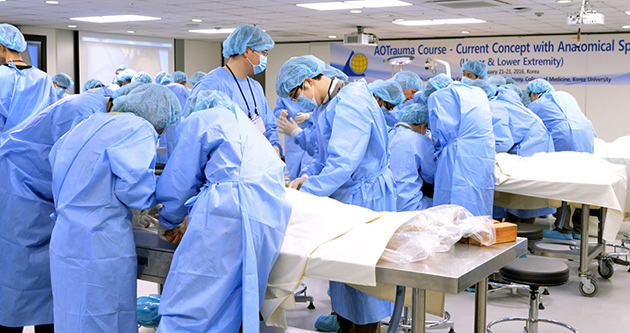 Great interactions and discussions
The fully-subscribed course, which brought together a total of 96 participants from eight countries around the region, provided great interactions and discussions between the faculty and participants.
Jong-Keon Oh (KR) chaired the course, with support from six module chairpersons: Theerachai Apivatthakakul (TH), Frankie Leung (HK), Congfeng Luo (CN), Chang-Wug Oh (KR), Marinis Pirpiris (AU), and Michael Schutz (DE). These chairs, together with a dedicated group of international and national AO faculty, all contributed to making this regional course a successful one.
A special thanks
A ceremony was organized at the course banquet to thank Michael Schutz, who is moving back to Germany from Australia, for his continuous support to AO education in AP over the past years. Representing the AO Family in AP, AO Foundation President Suthorn Bavonratanavech shared the organization's heartfelt appreciation for Schutz's contributions, and best wishes for the future.
Looking ahead
AOTrauma looks forward to hosting the third AOTrauma AP Current Concept Course in Hong Kong in 2018.
[The source of the article : https://aotrauma.aofoundation.org/Structure/pages/newsdetail.aspx?newslist=https%3a%2f%2faotrauma.aofoundation.org%2fNews%2fLists%2fNews+Common&newsid=541]